So much of what makes New Orleans a standout destination is influenced by African retention—especially the unique cuisine. Indeed, Black hands have been stirring pots in New Orleans since its founding. Whether you call it Creole, Soul food, or just plain ol' good, African-American families across New Orleans are preserving OUR traditions by cooking up the recipes we love. Here is a look at how four such families honor the culture of cooking and their respective family's legacy in the local restaurant business.
BARROWS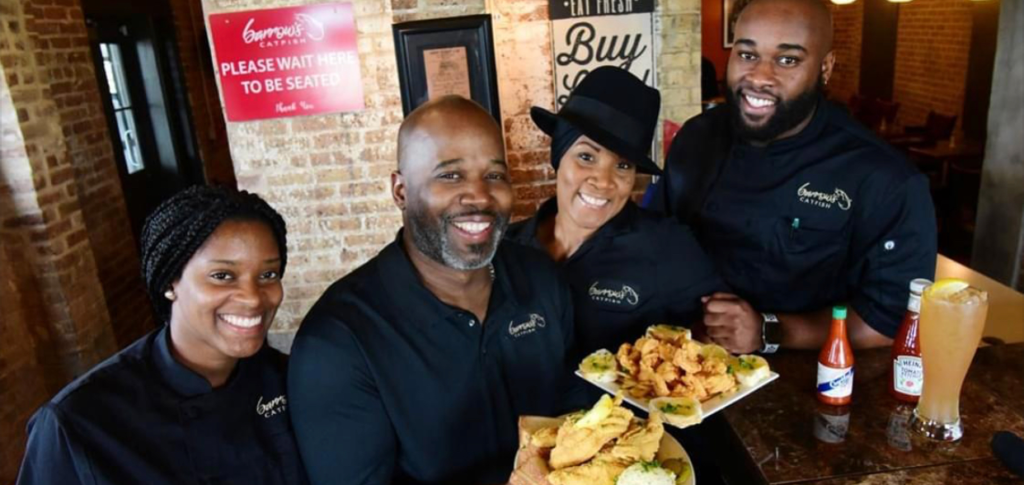 Barrow's was established in 1943 when William Barrow, Sr., and Mary Barrow opened Barrow's Shady Inn on Mistletoe Street in the Hollygrove neighborhood. Billed as a restaurant and bar, the original Barrow's was more of the latter—a bar that sold hot fried catfish with bread and potato salad out of the back door for 50 cents.
It didn't take long, however, for the crispy catfish and delectable potato salad to become the star of the show.
William and Mary's granddaughter, Deirdre was born and raised right next to the Barrows restaurant.
"I was born cooking," Deirdre says, adding that she joined the family business as a teenager. At about the same time, 19-year-old Kenneth Johnson began working at Barrow's as a cook. He says he was insecure because he wasn't a Barrow. Still, Deirdre's father Billy, took Johnson under his wing, guiding him in the kitchen. And eventually, Kenneth would become an official part of the family when he and Dierdre married.
In 1995, Kenneth and Deirdre Barrow Johnson took more active roles in running the family business; and in 2018, they started offering upscale Creole dining. Barrow's now has two locations — one in New Orleans' Central Business District and another on Lapalco Boulevard in Harvey, just across the river, about 15 minutes from downtown.
Of course, plates piled with catfish and a side of savory potato salad still take center stage at Barrow's, where the menu also features gumbo, corn and crawfish bisque, fried shrimp, oysters, seafood pastas, poboys, and red beans and rice (only on Mondays), along with a full Sunday brunch menu.
At 1700 Lapalco Blvd., Barrow's is open daily: 11 a.m. to 9 p.m. Monday – Wednesday; 11 a.m. to 10 p.m. Friday and Saturday; and noon to 6 p.m. on Sunday. At the CBD location, 1200 Poydras, Barrow's opens from 11 a.m. until 8 p.m. Monday through Saturday.
VAUCRESSON'S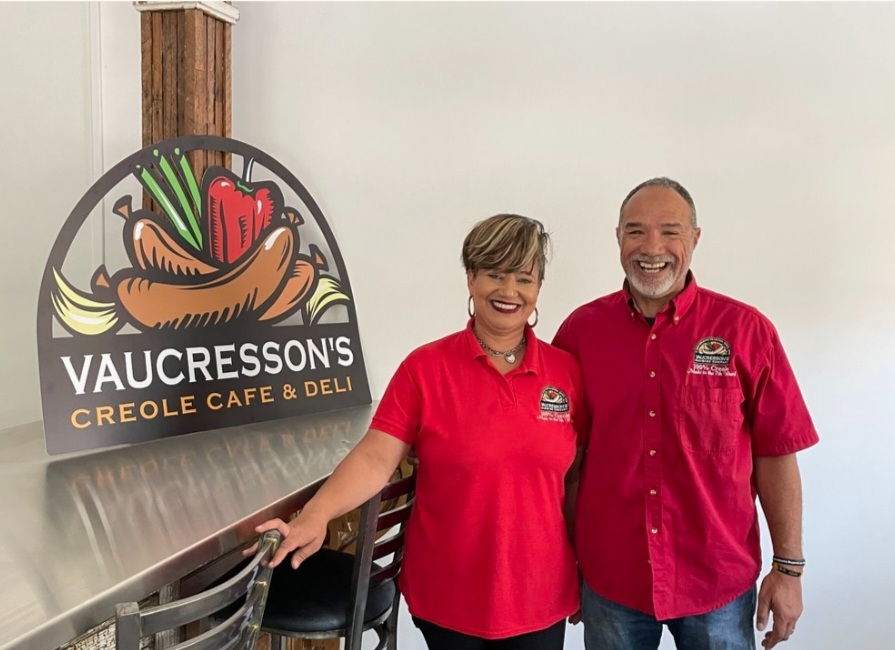 Vance Vaucresson comes from a long line of butchers, including his great-grandfather Levinsky Vaucresson, who arrived from France to New Orleans around 1899 and opened a market stall where he cut and sold meat.
Vance's grandfather, Robert Levinsky Vaucresson, continued the family heritage, and his father, Robert "Sonny" Vaucresson, transformed the meat market into the Vaucresson Sausage Company.
In October 1983, the family opened a factory in the Seventh Ward on the corner of St. Bernard Avenue and North Roman Street, where they made sausages and gumbo. That very corner is where Lance and his wife Julie now operate The Vaucresson Creole Café & Deli, where they still make fresh sausage every day.
The menu features poboys made with any of the savory sausages cooked up at the deli along with other treats like boudin balls, sausage and bean dip as well as a line of mustards, including creole, Dijon, mango, pecan and green onion varieties of the perfect sausage-pairing condiment.
Customers can take home packs of hot sausage, chicken sausage, crawfish sausage and Italian sausage–each made from family recipes that have been handed down for generations. Shoppers can also visit vaucressonsausage.com to have their favorite sausage shipped to them.
And while a dine-in eatery is new for the Vaucresson family, it's flavorful sausage has been part of the New Orleans food landscape for more than 100 years as both a regular food vendor at the annual New Orleans Jazz & Heritage festival as well as a supplier for many local markets and restaurants.
The family is also putting together a cookbook featuring its sausage offerings and other family favorites.
Vaucresson' Café & Deli, 1800 St. Bernard Ave., is open from 11 a.m. to 3 p.m. Tuesday through Saturday.
LIL DIZZY'S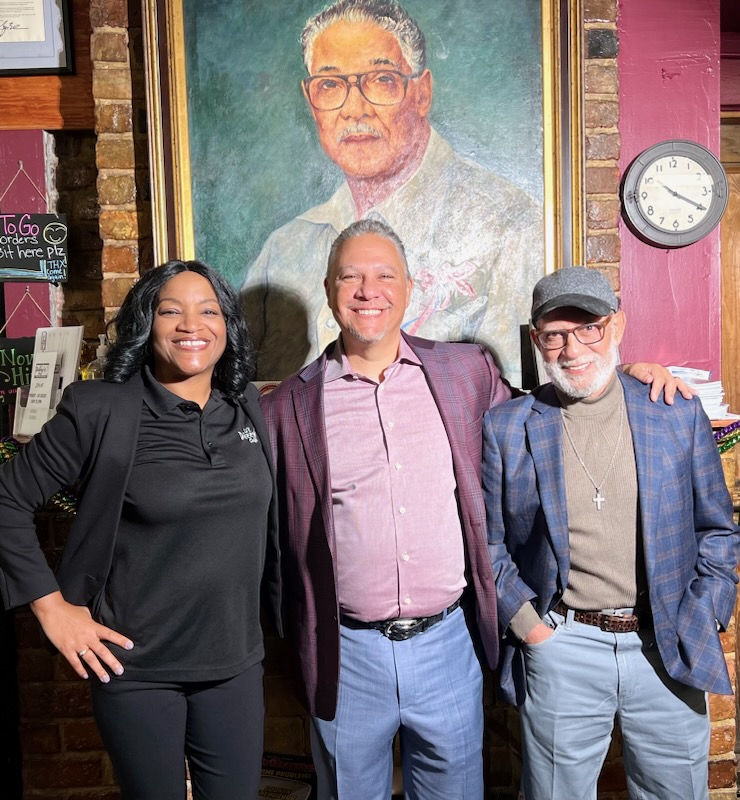 A popular establishment, Lil' Dizzy's is owned and operated by a family whose roots in New Orleans date back centuries. Located in the heart of Tremé, the oldest Black neighborhood in America, Lil Dizzy's is the latest love letter from the Baquet family to New Orleans written in the universal language we all understand – food.
Over the years, Wayne Baquet, Sr., has owned eight different restaurants. His love for food and for the Tremé neighborhood came together when he opened Lil Dizzy's in 2005.
Then the pandemic hit, and the economic slow down took its toll. Wayne Baquet, Sr. decided to close Lil' Dizzy's – a "for sale" sign was placed on its shuttered doors in late 2020.
He recently reflected on the decision.
"You have to know when to hold, when to fold, and when to keep going," he says. "I have a good bit of energy that I can enjoy the rest of my life because I know I've done all the right things."
One of those things he did right was to prepare the next generation to take over.
Instead of Lil' Dizzy's closing for good or being sold to someone outside of the family, Wayne, Sr.'s son and businessman, Wayne Baquet, Jr., and his wife, Arkesha Baquet, stepped in and decided to reopen Lil Dizzy's in early 2021, with Arkesha Baquet running the day-to-day operations.
Wayne Jr. says that taking over the business his father started was about continuing a legacy and maintaining a family business that could be passed down to future generations.
And while the self-serve buffet is a thing of the past, many of the flavorful dishes that patrons have come to know and love are menu mainstays. Much like her father-in-law, Arkesha Baquet can be found at the Esplanade Avenue restaurant most days — greeting customers and keeping things moving.
She takes pride in everything being made in-house and cooked fresh daily.
Following recipes from the Baquet family cookbook, Arkesha says the food at Lil' Dizzy's is "flavored with heart and soul". And while a few dishes have been updated, the consistent commitment to delivering excellent, authentic Creole dishes is the same.
Lil Dizzy's, 1500 Esplanade Ave., is open from 11 a.m. until 3 p.m. Monday through Saturday.
DOOKY CHASE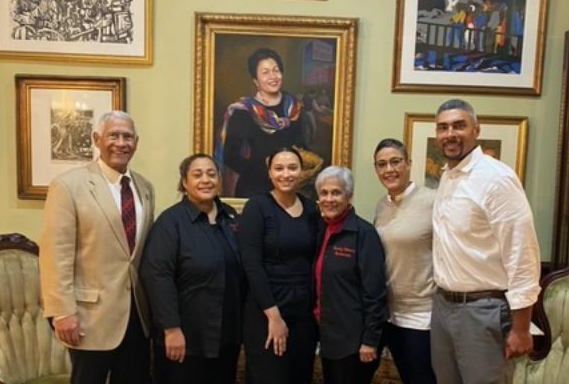 Dooky Chase Restaurant started as a poboy shop in 1941 founded by Emily Tanet Chase and Edgar L. "Dooky" Chase Sr., who grew up in the Tremé community.
Fine dining came into the business in 1946, after their son Edgar L. "Dooky" Chase II brought his wife, Leah into the business. Edgar II and Leah would go on to have four children and 15 grandchildren, and 28 great grandchildren.
Now, their children, grandchildren and even great-grand children—cross-generational members of the Chase family—are keeping the Chase family and its food legacy flourishing. One granddaughter, Tracie Hydel Griffin, helps handle operations for the restaurant; and another, Eve Marie Hydel, manages the cocktail bar at Dooky Chase, where a great-great granddaughter, Zoe Chase, is a sous chef.
Grandson, Edgar "Dook" Chase IV, is the executive chef, overseeing operations at four restaurants, including Dook's Burgers and Leah's Kitchen, both located inside the Louis Armstrong International Airport, and the latest offering to the city's culinary landscape – Chapter IV, located in the CBD.
Of course, Leah's Kitchen is named to honor Dook's grandmother, the legendary "Queen of Creole Cuisine". There, travelers, especially those who won't get a chance to visit the flagship restaurant at the corner of Orleans Avenue and North Miro Street, can get a taste of Creole and Southern staples like fried chicken, gumbo, and red beans and rice.
If Leah's Kitchen is a tribute to the Chase family's rich history, perhaps Chapter IV is a look into its future. Opened in 2023 by Dook and his wife Gretchen, Chapter IV features a modern take on the traditional Creole dishes that Dook learned from his grandmother. Dook, who also trained at Le Cordon Bleu Paris, says both the food and the atmosphere at Chapter IV represent a refined ode to the classics and are inspired by a legacy of service and promotion of the arts.
Dooky Chase, 2301 Orleans Ave., is open from 11 a.m. to 3 p.m. Tuesday through Friday and from 5:30 p.m. to 9 p.m. Friday and Saturday. Chapter IV, 1301 Gravier St., is open from 8 a.m. to 3 p.m. Monday through Friday and from 9 a.m. to 3 p.m. on Sunday.